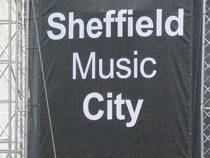 "I have come to the third floor of the Hallamshire Hospital to write about the Sheffield Publicity Department (SPD) and Sheffield Music City, the guide they have published in collaboration with Sensoria and the University of Sheffield. It's a small, distinctive booklet printed in two colours, black and red. Each double page describes a band or musician with text on the left and a photograph on the right. The image is always of a contemporary building or place, the site of something related to the music. In the case of ABC, for example, the photograph is of a 'miserable looking row of student houses, on Barber Crescent, Crookesmoor' which have since replaced a condemned terrace, where Martin Fry once lived. The booklet represents the city as a recording, with the SPD as its stylus, turning its seemingly blank, featureless and dull buildings into music. As they say in their introduction, there are 'no blue plaques' to reveal this secret. Indeed the guide begins with a lyric adapted from Poison Arrow, the very song that Martin Fry performed in a gold lamé suit on Top of the Pops in 1982:
If we were to say to you can you keep a secret?
Would you know just what to do or where to keep it? 
............................................................ 
Of course, no one is saying that market success is not an indicator of quality. Indeed, Martin Fry's gold lamé suit is a reference to the gold lamé suit that Elvis Presley wore on the cover of his 1962 hits album 50,000,000 Elvis Fans Can't Be Wrong. The suit is symbolic not only of sales, and all that goes with high sales (fame, prestige, power) but also of the messianic figure of the artist, godlike in its lustre. Elvis believed he was a Messiah (and indeed amassed a large collection of spiritual literature) and to an extent he was a kind of saviour. A dirt poor Tennessee boy whose music bridged ethnic divisions in 1950s America, and in so doing challenged authority, liberating and encouraging teenage dreams of empowerment and potential. There's much more performance to Martin Fry's appropriation of the lamé. Twenty-five years on and Elvis is long dead, his challenge long over, absorbed by prescription drugs and the poor diet he could never escape. There is more than a hint of playfulness and irony to Martin Fry's own gyrations in gold that nevertheless, despite it all, still entertain the subjunctive sense of glory that only a three and a half minute pop song can deliver. That's the enduring magic of the principles that Elvis so clearly set forth: music that captures the spirit of the times, music which the market reacts to in the spirit to which it was set out.
............................................................ 
-------->